Tierney's team of professionals are dedicated to working with Digital Alchemy so clients can improve their marketing efficiency and capture latent customer value.
The Digital Alchemy Customer Journey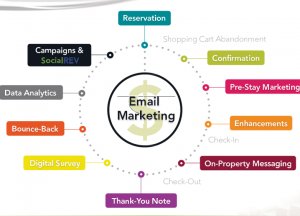 Reservation Confirmations
The first impression is no longer the lobby. Content is customized and delivers everything from the reservation number and arrival/departure date to the stay amount and cancellation policies.
Reservation Cancellations

Confirms the guests request to cancel has been received and offers an opportunity to discover why the cancellation was made. The opportunity for hotels to win back the guest and invite them to re-book directly.
Pre-Stay Marketing
Extend your hospitality before the guest arrives by showing amenities and offering helpful information about the hotel, up-selling and cross- selling,  room upgrades, early check-in/ late check-out, invite dining/ spa reservations.
Guest Requests/Preferences
Solicit guest preferences and requirements before they arrive to add the extra touch and the data can be used post check-out for campaigns to drive new booking.
Welcome Note
Provides a warm welcome at check-in and another great opportunity to share 'promotions' and 'offers'.
Thank-You Note
A well timed Thank-You from the GM is classy and polite, invite your guest to complete a guest survey that will encourage DIRECT future bookings.
Guest Satisfaction Survey
Receive real-time feedback, set up alerts for any non-positive feedback and promote positive feedback to TripAdvisor.
Campaigns/Newsletters
Use your past guests data to drive new bookings via highly segmented and targeted campaigns, opportunity to Channel shift your OTA guests.
SocialRev
Social Advertising across Facebook and Instagram can be synchronised with direct marketing campaigns. Strategies to improve results across all platforms while discovering and reaching new customers and audiences.
Benefits of using Digital Alchemy?
More DIRECT Bookings
Improved RevPar and More Profit
Engaged and Loyal |Guests