Dermot Kelly, Owner/Director, Shannon Springs Hotel, Shannon, Co. Clare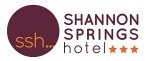 Throughout my career in the hospitality Industry I have worked with the team at Tierney's for the past 20 years. I have always found them to be pro-active in developing solutions to suit the needs of the IT infrastructure within the hotels and at all times been more than satisfied with the high level of professional competence and expertise displayed by the team. At Shannon Springs we are very satisfied with the Aloha Point of Sale system for the Bar and Restaurant. It is an easy system to learn and the reporting functionality is extremely comprehensive and helps us to make decisions about the operations of the business efficiently. Our front of house staff love the new Tablet mobile ordering solution, it allows us to give a more personalised service to our customers not to mention an improved speed of service too.
In summary my experience of using Tierney's and the products and services they provide has been very positive and I would have no hesitation in recommending them to other companies requiring IT Solutions.